94 Years and Still Standing Strong!!
Welcome to the National Silver Fox Club!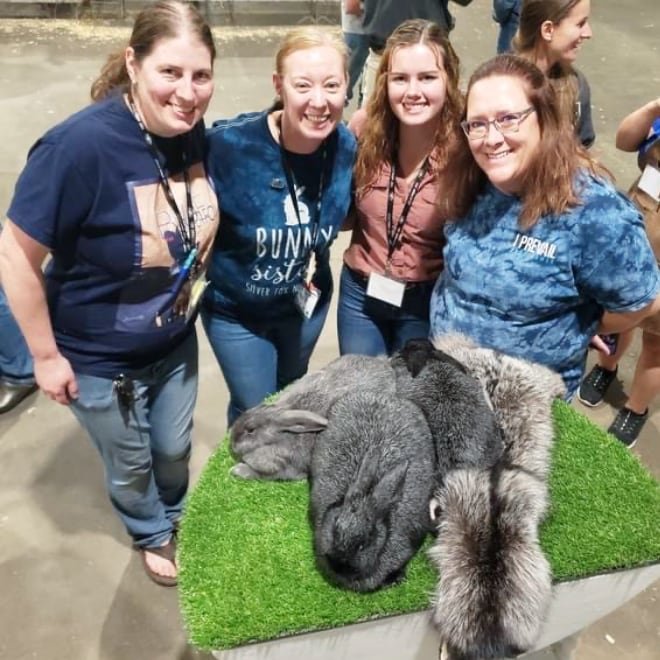 Here you can find exclusive information about your Fox, fellow breeders in your area, upcoming shows where the Silver Fox is sanctioned, and so much more!
---
Not a member? We are so glad you decided to stop by and explore our site. If you just recently discovered this wonderful breed, just purchased your first Silver Fox, or have been an avid Silver Fox admirer for years - we hope we can provide you with information and support to make raising this special breed enjoyable and rewarding.
---
The NSFRC Board of Directors has approved the 2023/2024 Committee members revisions for the club. We have posted the revisions to the committee members, listed the chairs and provided emails to contact committee members for assistance.
---
Application Deadline - March 31
We understand that the future of NSFRC rests on the leadership, skills and knowledge that our youth possess.
We know the skills and experience that these young people learn through their involvement in 4-H, FFA, NSFRC, ARBA, rabbit showing, community service and agricultural engagement will allow them to lead our community. The NSFRC are proud to support these brilliant young people through a club support Youth scholarship.
The applicant must have been a member of the American Rabbit Breeders Club (ARBA) and National Silver Fox Rabbit Breeders Club (NSFRC) for 2 years prior to submitting an application for this scholarship
Applicant has been accepted to a college, university, trade school or continuing education Program of his/her choice
There will be up to one thousand dollars ($1000) awarded per year. The scholarship may be Awarded to 1 (one) or 2 (two) applicants depending on eligibility. The amount of scholarship to the recipients will be determined by the number of scholarships awarded
Applicants applying for this scholarship may do so as a senior in high school or as a freshman in college or other continuing education program. Applicants may receive this award one (1) time Applicants not awarded the scholarship may reapply each year up to and including their senior year of continuing education
Scholarship(s) will be awarded at the NSFRC general membership meeting at the ARBA convention each year
Applications will be completed, and post marked NO LATER than March 31 to: Bill Brockman, 234 Evans Rd Kingston, TN 37763
---
Show date April 5/6
The NSFRC Board of Directors is pleased to announce that 2024 SF Nationals will be held in Decatur, IL at the Decatur Civic Center at the Oren Reynolds Tribute Show on April 5/6.
---
Spring 2025
The NSFRC Board of Directors is excited to announce that 2025 Nationals will be hosted by the club as a Silver Fox Event. A weekend full of foxy rabbits with workshops, shows and friends. Members of current good standing will have the opportunity to vote on 1 of the following options.
Sediala, Missouri
Castle Rock, Colorado
Canton, Ohio
More information coming soon.
---